Welcome to Wayne Church Children's Ministry!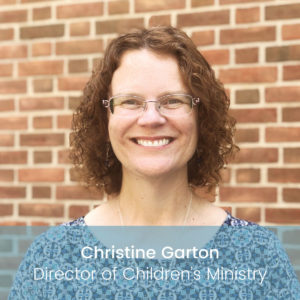 My name is Christine Garton, and I'm the Director of Children's Ministry. It is my sincere pleasure to welcome you into the Wayne Church family!
At Wayne Church we believe that children are a vital part of church life. We seek to engage children in worship, education, service, fellowship, and all other aspects of Christian and community life.
In addition to Sunday morning programs and childcare, we offer special activities and events for children and families throughout the year.  These include Vacation Bible School, Easter Egg Hunt, Trunk or Treat, movies on the lawn, Advent dinner and crafts, Christmas Eve Family worship, and family fun nights.  We hope you'll join us!
I look forward to getting to know and serve you and your children! You can reach me at c.garton@wayneumc.org.
Blessings to you!
Christine Garton
Children's Ministry
Wayne Church is a place where we seek to engage children in worship, teaching, and all other aspects of community life. Children experience safe, age-appropriate classroom environments where the Bible is taught in a creative, relevant way.
Childcare for ages 6 weeks to age 5 is offered Sunday mornings from 10:15 a.m. to 11:45 a.m. year-round.  
Please contact our Director of Children's Ministry, Christine Garton for more information or to get on the Children's Ministry email list.

  210 S. Wayne Ave, Wayne PA, 19087-4072
  Monday-Thursday: 8:30-3pm | Friday: 8:30-noon