Welcome to Wayne Church Children's Ministry!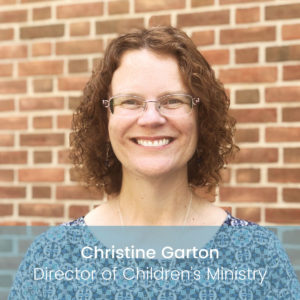 My name is Christine Garton, and I'm the Director of Children's Ministry. It is my sincere pleasure to welcome you into the Wayne Church family!
At Wayne Church we believe that children are a vital part of church life. We seek to engage children in worship, education, service, fellowship, and all other aspects of Christian and community life.
I look forward to getting to know and serve you and your children! You can reach me at c.garton@wayneumc.org.
Blessings to you!
Christine Garton
WAYNE KIDS on FACEBOOK!
Join Miss Christine for some online fun!
Bedtime Stories (ages 1-7) Wednesdays at 6:30pm

  210 S. Wayne Ave, Wayne PA, 19087-4072
  Monday-Thursday: 8:30-3pm | Friday: 8:30-noon