WOMEN'S EVENING BIBLE STUDY CONCLUDES MAY 1 - A 6-week study of Ruth with the book, A Woman Who Doesn't Quit: 5 Habits from the Book of Ruth by Nicki Koziarz.
OVERVIEW: Have you ever gotten to the place where you just couldn't take it anymore?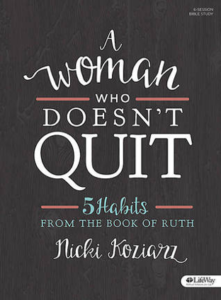 Dreams. Programs. Jobs. Relationships. There are so many different areas where we feel like calling it quits. It's time for an honest conversation on how not to give in to the temptation to give up. Nicki Koziarz is a woman who has thrown in the towel a time or two. In fact, she's quit just about everything in her life. But with God's help, she's discovered a few habits that have helped her and others conquer the choice to quit. Then there is Ruth. She is much more than a Bible story and through her life we uncover five life-giving habits that help us to persevere when things get hard, complicated, and messy. But these habits do more than just motivate, they help us to fight when resistance arises. They teach us to pursue discipline and the desire to determine our daily direction. These habits show how success is not achieved by pursuing temporary desires. The direction of our lives needs to be far less about to-do lists and accomplishments. And instead focus on becoming the people God can count on.
5 Habits of a Woman Who Doesn't Quit will enable you to:
Evaluate the

internal personal struggles that make you want to quit.

Cultivate consistent habits to help you progress toward your goals.

Receive a fresh dose of perspective from the Bible that will help you develop perseverance.
You are not made to quit! Join Nicki as she identifies five habits to help you keep going no matter what struggles may come your way.
HOW: There is a Bible study version AND a regular paperback version.  The Bible study version will have the questions included.
$12.00 at Lifeway.com
$14 at Amazon.com
$10 at BarnesandNoble.com (this is the paperback book, not the Bible study book–used versions available). Audiobook also available.
TIME: 7:00PM every other Tuesday evening
WHERE: Kimm Ebersole's house (email her for address or check the church directory if you don't have it already!)
DATE: CONCLUDES 5/1
BOOK OF ACTS BIBLE STUDY
APRIL 24, 2018
We will continue our 8-week Bible Study on the Book of Acts on Tuesday, April 10, 2018. All classes will be from 7-8:45 pm and will be held in the Parlor. The book of The Acts of the Apostles focuses on the empowering of the apostles by the Holy Spirit at Pentecost and their subsequent sharing of the gospel message "in Jerusalem, in all Judea and Samaria, and to the ends of the earth" (Acts 1:8). This bible study will be led by Rev. Galen Black. He is looking forward engaging with these scriptures and learning together how to apply it our lives in the world day. Questions? Email Rev. Black or call 440-318-4505.
April 24: Fellowship of Courage
May 1: Temples, Politics, and Business
May 8: Boldness for the Gospel
May 15: Ordering Our Lives
May 22: CLASS PARTY
A.C.T.S. (ADULT CONNECTION TIME ON SUNDAYS)
"BE STILL AND KNOW THAT I AM GOD"
CONNECT with other adults on Sunday mornings before our 10:30 service! We are currently offering sessions on meditation with member Karen Bruno to develop our own ability to experience the peace and love of the Holy Spirit through meditation. In his April 8 message, Pastor Tom talked about a practice John Wesley called "spiritual respiration," in which we inhale the breath of God and exhale His love and service toward others. A meditation practice can help you develop this intentional breathing in and exhaling of God's breath.
Each independent session is open to all and begins with a breathing exercise followed by a prayer-based meditation, concluding with a group discussion. There is no requirement to commit to all sessions; come to any or all as your interest/schedule dictate! Our weekly focus will be: April 22nd, Earth Day Prayer. May 13th, Mother's Day Prayer. May 20th, Prayer for our Confirmation Class. Note: An alternate Connections topic will be offered April 29 & May 6.
ADULT CONNECTION time on Sundays ("ACTS") is held at 9:15am in "The Upper Room" on the 2nd floor of the education building (across from the Choir room). Please join when you can!

  210 S. Wayne Ave, Wayne PA, 19087-4072
  Monday-Thursday: 8:30-3pm | Friday: 8:30-noon